Mt. Wheeler Power Cooperative
2023 Mt. Wheeler Power Board of Directors
Take a look around and discover all the things your co-op has to offer.
Job Opening
Mt. Wheeler Power, Inc.
No Job Openings Currently
All prior applications are not kept on file. 
Mt. Wheeler Power, Inc. is an Equal Opportunity Provider and Employer
Join Us In Making A Difference
Mt. Wheeler Power Is Hosting The "Fill The Bucket" School Supply Drive To Empower Local Students.
"Fill the Bucket" school supply drive is taking place in August.
This drive aims to provide essential school supplies to students in need, ensuring they have the tools necessary for a successful academic year.
Make your donation at either our Ely or Eureka office.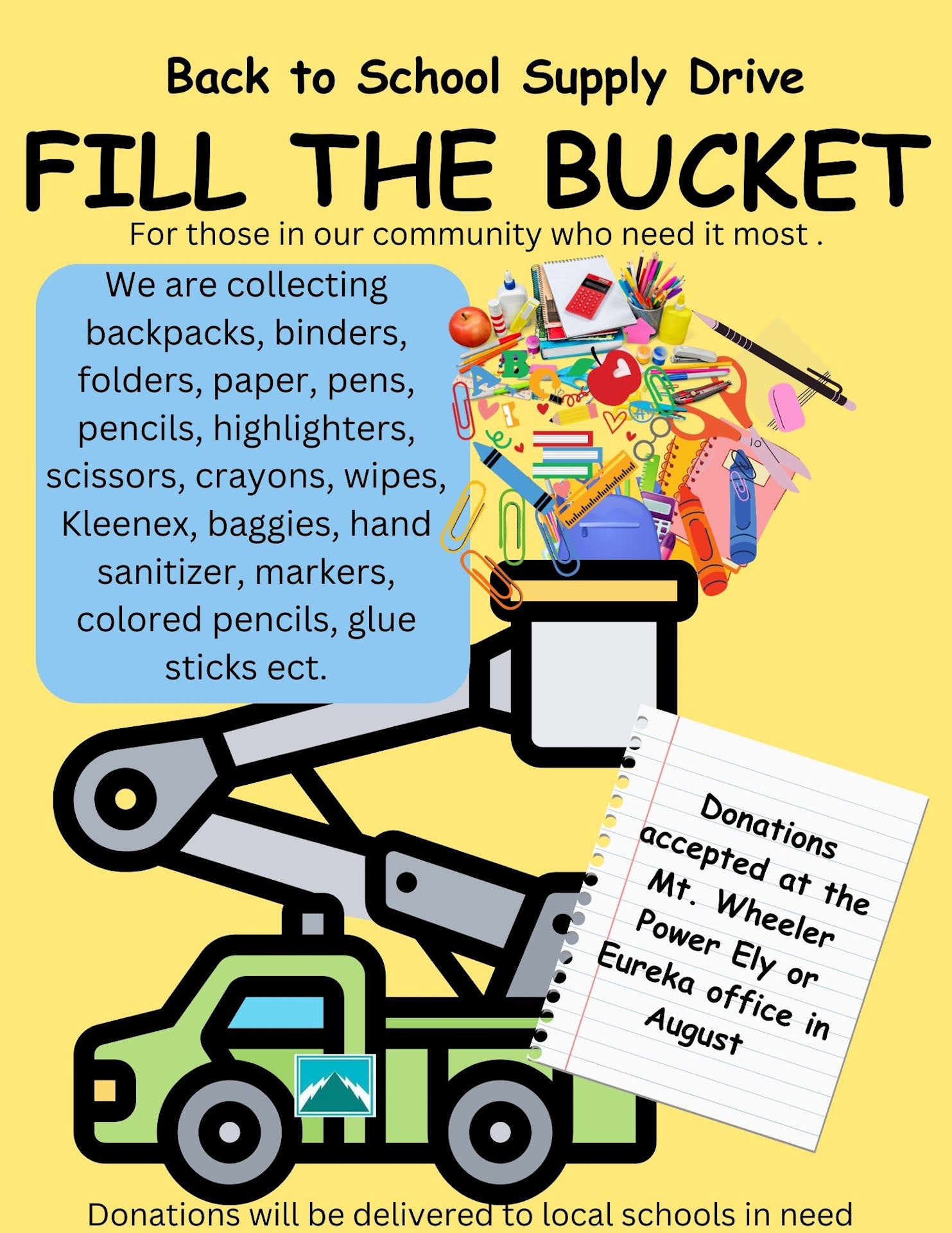 Safety
Safety Demo Days in May
May 8th- Ibapah, UT
May 11th - Ely, NV
May 15th - Duckwater, NV
May 17th - Eureka, NV
May 18th - Baker, NV
Call 775-289-8981 to schedule your school or group to attend one of the above dates. 
2023 ANNUAL MEETING
 May 4, 2023  
Tough Times Don't Last. Tough Teams Do!
We invite you to join us at our Ely office at 1600 Great Basin Blvd, in Ely, Nevada. Doors open at 3:30 pm for registration & door prizes. Dinner will follow with opportunities to visit booths from local vendors, check out our safety demo and tour our facility. The announcement of our 2023 Scholarship recipients and Board of Directors election results will precede the business meeting which will begin at 5:00 pm and of course raffle winners will be drawn throughout the afternoons events. We look forward to seeing you all in person.
About Touchstone Energy Cooperatives
The Touchstone Energy Cooperatives brand represents a nationwide alliance made of more than 700 local, consumer-owned electric cooperatives in 46 states.
Touchstone Energy co-ops collectively deliver power and energy solutions to more than 30 million members every day. Electric cooperatives distribute power for 56 percent of the U.S. land mass over 2.4 million miles of power lines.